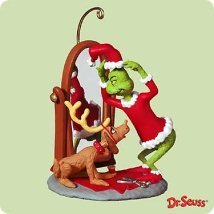 Ho, Ho, Ho!

Yes, in our house it's once again that time of year when we drag a dead tree into our house and deck it with twinkly lights and special ornaments!
For us, it's also time to light the Chanukah candles, as well as the occasion to celebrate Rachel's birthday (no, it is NOT possible that she is turning seven) all within the span of one week.
And, as always, I've been wracking my brain about what gifts would be appropriate for friends and family.

D. & I don't usually do anything too big for each other or for adult members of the family, though Rachel clearly makes out like a bandit just by virtue of three gift-giving occasions crammed into the end of December. Actually, we like to designate charities each year to give the money that we would otherwise spend on gifts for us — you can find one of our favorites here.


But I think I've found the PERFECT present for our loved ones this year and it ain't going to cost us a red cent!
THERE WILL BE NO HOLIDAY LETTER THIS YEAR!!!
You heard me right! No one will be forced to read about Rachel's transition into first-grade, summer camp, vacations, job advancements, sad losses or how many hours D. had to work this year (again!).
I resisted the holiday letter for a long time, insisting on crafting handwritten notes to all the people I didn't talk to on a regular basis throughout the year. But, as life obligations grew (read: parenthood), I caved, buying cute computer paper on which to print the letter that all would receive.
As I started trying to write it this year, I couldn't.

Yes, there are things that happened that made me happy and sad, joyous and despondent, proud and humbled. But it felt more like I was just updating the old paragraphs — what grade Rachel is in, where we went on vacation.
So, while I do want to keep long-time and distant friends in the loop, I'm going to find another way.
That is, unless you read my blog!!! And then you've been following most of those things through the year anyway! So to my blogosphere friends, you have the upper hand when it comes to conversation at my holiday dinner table or on my blogosphere life discussion.
To my family and friends (most of whom don't read my blog!), they'll have to settle for something a tad more personal this year!
Related Posts: