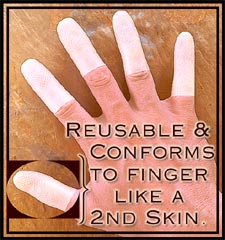 Now that I have your attention, let me explain.

No, she didn't show up at my home or post something else on my blog about her opinions on what she considers my less-than-noteworthy life path.
This little story has to do with dinnertime. The bane of so many mothers' existences — trying to get everyone together at the table and finding something new and interesting to cook that doesn't require the skill of a
Top Chef
contestant or the budget of
Anthony Bourdain
.

OK, I didn't lose as much blood as the SNL faux-Julia, but suffice it to say that I was severely reprimanded by both the doctor and the nurse at the emergency room the following morning for not getting my butt there when it happened — "Sorry, it's too late to stitch it up now."

So, they bandaged it as best they could, made me promise not to wash any dishes for a week (golden!) and dispensed some supplies to help the "laceration" heal.

As the nurse poured them into my hand, I looked up at her and sheepishly said, "Thumb condoms?"

All she said was, "Yup!" Clearly, I was not the first to utter those words.

My mother was quick to point out that they are more correctly called finger gloves, but, hey, that's no fun to say!
Related Posts: