The networks and cable outlets will start covering the Democratic National Convention on Monday, August 25. Many of my fellow MOMocrats are going to be in Denver and will be posting TONS of interesting reports from there.
But as we've been compiling information about the events and speakers and goings-on, I thought, "HEY! Why not start covering the convention now?"
I'm not talking about writing about the preparations for the balloons and or what Chris Matthews or Keith Olbermann might be ranting about. If you've never been to a convention (I'm lucky — I covered one in my former journalism life!), there is SO much more going on than just the platform and nominating stuff and keynote speakers. And I have a feeling that the events I want to share with you aren't ones that MSNBC or CNN will be paying much attention to.
But they should.
Even though Hillary Clinton is not going to be the Democrats' nominee this year, Denver is going to be the kick-off for a much bigger campaign — the campaign for Democratic women to take the power that they have embraced in this election season and take the next step with it.
If I get there (and it's still a big 'if') at the moment, one of the events that I'm definitely attending is called Unconventional Women: Claim Your Slice of the Pie — political pie, that is.
Sponsored by a variety of organizations, including The White House Project and the Women's Campaign Forum, the Uncoventional Women event will be a day of high-profile, politically active women speakers talking about what's next on the agenda for women who've tasted politics this year and want more. Plus, the Women's Campaign Forum is trying to identify and sign up hundreds more women to run for political office. Not necessarily for POTUS 2012, but also for local and state and offices.
One thing that's great about living in the "shadow of the nation's capital" is that I'm pretty close to the offices of many of these organizations. So I recently got to have coffee with one of the women speaking at the Unconventional Women event in Denver, Ilana Goldman, who is the president of the Women's Campaign Forum.
An hour of time and a dose of caffeine with her last week was enough to make me even more excited about where we can go in the next four years, especially if we get moving on goal she and I both have — getting more women to reach into their wallets to support women candidates.

Still looking for a place to do that and be a part of PunditMom's $27 Election Revolution? I'm sure Ilana wouldn't mind if you chose her organization or if you spent it to attend one of the Unconventional Women sessions in Denver if you're going to be there.
And besides, you KNOW you want one of these!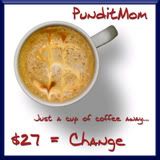 Related Posts: